Ethics for Educational Leaders
by Weldon Beckner
Appropriate to all levels of professional development for educational leaders, this brief book emphasizes the practical application of contrasting philosophical and ethical concepts to realistic educational leadership challenges. Recognizing that educational administrators are required to make decisions in problem situations without ideal solutions, the major purpose of the book is to provide a philosophical and theoretical base along with practical suggestions and activities to use that foundation in making the best decisions possible in difficult situations.
How Full Is Your Bucket?
by Tom Rath, Ph.D. Donald O. Clifton
How did you feel after your last interaction with another person? Did that person — your spouse, best friend, coworker, or even a stranger — "fill your bucket" by making you feel more positive? Or did that person "dip from your bucket," leaving you more negative than before? The #1 New York Times and #1 BusinessWeek bestseller, How Full Is Your Bucket? reveals how even the briefest interactions affect your relationships, productivity, health, and longevity. Organized around a simple metaphor of a dipper and a bucket, and grounded in 50 years of research, this book will show you how to greatly increase the positive moments in your work and your life — while reducing the negative. Filled with discoveries, powerful strategies, and engaging stories, How Full Is Your Bucket? is sure to inspire lasting changes and has all the makings of a timeless classic.
How Good People Make Tough Choices
by Rushworth M. Kidder
"A thought-provoking guide to enlightened and progressive personal behavior."
—Jimmy Carter
An essential guide to ethical action updated for our challenging times, How Good People Make Tough Choices by Rushworth M. Kidder offers practical tools for dealing with the difficult moral dilemmas we face in our everyday lives. The founder and president of the Institute for Global Ethics, Dr. Kidder provides guidelines for making the important decisions in situations that may not be that clear cut—from most private and personal to the most public and global. Former U.S. senator and NBA legend Bill Bradley calls How Good People Make Tough Choices "a valuable guide to more informed and self-conscious moral judgments."
Icons and Idiots: Straight Talk on Leadership
by Bob Lutz
When Bob Lutz retired from General Motors in 2010, after an unparalleled forty-seven-year career in the auto industry, he was one of the most respected leaders in American business. He had survived all kinds of managers over those decades: tough and timid, analytical and irrational, charismatic and antisocial, and some who seemed to shift frequently among all those traits. His experiences made him an expert on leadership, every bit as much as he was an expert on cars and trucks. Now Lutz is revealing the leaders-good, bad, and ugly-who made the strongest impression on him throughout his career. Icons and Idiots is a collection of shocking and often hilarious true stories and the lessons Lutz drew from them.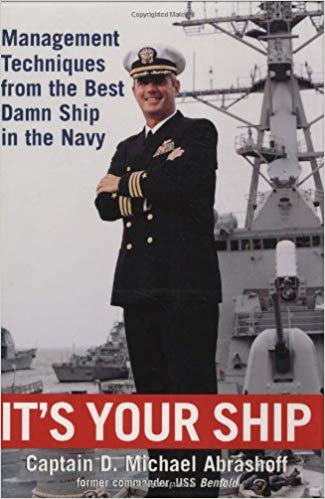 It's Your Ship: Management Techniques from the Best Damn Ship in the Navy
by D. Michael Abrashoff
The story of Captain D. Michael Abrashoff and his command of USS Benfold has become legendary inside and outside the Navy. Now Abrashoff offers this fascinating tale of top-down change for anyone trying to navigate today's uncertain business seas. 
From achieving amazing cost savings to winning the highest gunnery score in the Pacific Fleet, Captain Abrashoff's extraordinary campaign sent shock waves through the U.S. Navy. It can help you change the course of your ship, no matter where your business battles are fought.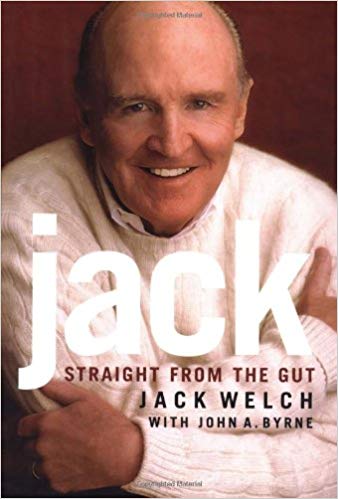 Jack: Straight from the Gut

 
by Jack Welch
The CEO of General Electric looks back on his distinguished career with the corporation and shares his personal philosophy of business and innovative managerial style. (Business & Finance)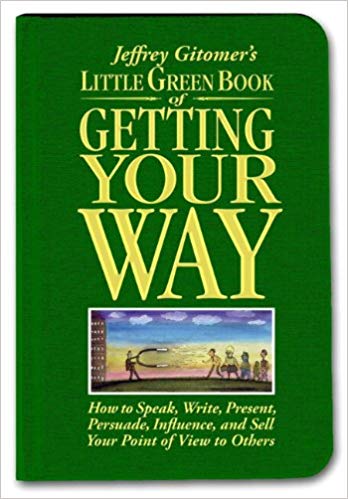 Little Green Book of Getting Your Way: How to Speak, Write, Present, Persuade, Influence, and Sell Your Point of View to Others
by Jeffrey Gitomer
Jeffrey Gitomer's The Little Green Book of Getting Your Way digs deep into the 9.5 elements that make persuasion, and getting your way, happen. By breaking down the elements, the reader will begin to understand, take action, become proficient, and then master the ability to persuade. Because persuasion occurs in so many different areas of life and business, Gitomer leads the reader from mental readiness to the principles of getting your way and the power that persuasion offers. He challenges the reader to prepare before they present, to prepare before they try to persuade. He demonstrates how to change a presentation into a performance and shows how this can be done in any environment. But because persuasion most often takes place in business, he draws special emphasis to the reader's ability to write and sell persuasively.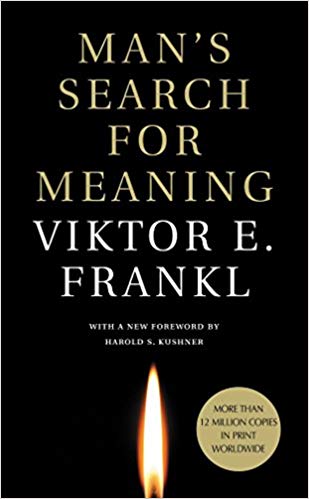 Man's Search for Meaning
by Viktor E. Frankl
Psychiatrist Viktor Frankl's memoir has riveted generations of readers with its descriptions of life in Nazi death camps and its lessons for spiritual survival. Between 1942 and 1945 Frankl labored in four different camps, including Auschwitz, while his parents, brother, and pregnant wife perished. Based on his own experience and the experiences of others he treated later in his practice, Frankl argues that we cannot avoid suffering but we can choose how to cope with it, find meaning in it, and move forward with renewed purpose. Frankl's theory-known as logotherapy, from the Greek word logos ("meaning")-holds that our primary drive in life is not pleasure, as Freud maintained, but the discovery and pursuit of what we personally find meaningful.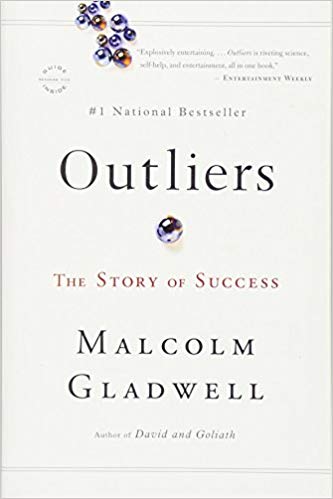 Outliers: The Story of Success
by Malcolm Gladwell
In this stunning new book, Malcolm Gladwell takes us on an intellectual journey through the world of "outliers"–the best and the brightest, the most famous and the most successful. He asks the question: what makes high-achievers different?
His answer is that we pay too much attention to what successful people are like, and too little attention to where they are from: that is, their culture, their family, their generation, and the idiosyncratic experiences of their upbringing. Along the way he explains the secrets of software billionaires, what it takes to be a great soccer player, why Asians are good at math, and what made the Beatles the greatest rock band. 
Brilliant and entertaining, Outliers is a landmark work that will simultaneously delight and illuminate.
Relationships 101 (101 Series)
by John C. Maxwell
Great leadership is built on great relationships!
Leadership is a relationship-intensive endeavor. If your people skills aren't strong, neither will be your leadership. "If people aren't following you," sums up New York Times and Business Week best-selling author Dr. John C. Maxwell, "then you're not really leading." In Relationships 101, Maxwell provides time-tested principles for developing healthy relationships with others―inside and outside of your organization.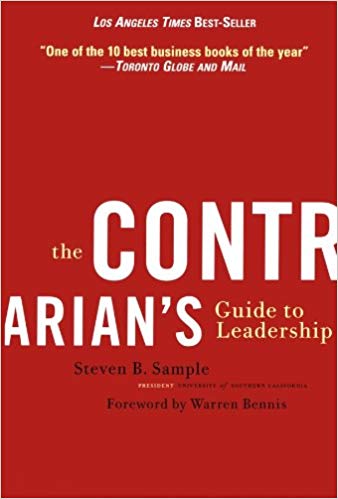 The Contrarian's Guide to Leadership
by Steven B. Sample
In this offbeat approach to leadership, college president Steven B. Sample-the man who turned the University of Southern California into one of the most respected and highly rated universities in the country-challenges many conventional teachings on the subject. Here, Sample outlines an iconoclastic style of leadership that flies in the face of current leadership thought, but a style that unquestionably works, nevertheless. Sample urges leaders and aspiring leaders to focus on some key counterintuitive truths. He offers his own down-to-earth, homespun, and often provocative advice on some complex and thoughtful issues. And he provides many practical, if controversial, tactics for successful leadership, suggesting, among other things, that leaders should sometimes compromise their principles, not read everything that comes across their desks, and always put off decisions.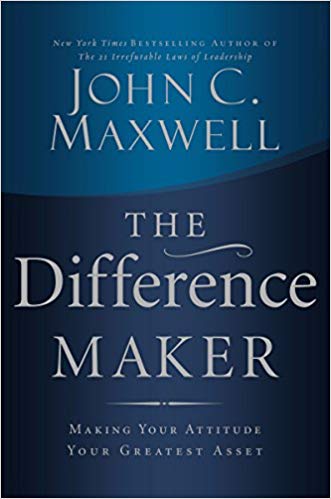 The Difference Maker: Making Your Attitude Your Greatest Asset

 
by John C. Maxwell
What can make the difference in your life today? How can two people with the same skills and abilities, in the same situation, end up with two totally different outcomes? Leadership expert John C. Maxwell says the difference maker is attitude. For those who have ever wondered what may be separating them from achieving the kind of personal and professional success they've always dreamt of, Dr. Maxwell has some words of insight: "Your attitude colors every aspect of your life. It is like the mind's paintbrush."
In The Difference Maker, Maxwell shatters common myths about attitude-what it can do for you and what it can't. Showing you how to overcome the five biggest attitude obstacles, Dr. Maxwell teaches the skills you need to make attitude your biggest asset. Most importantly, you'll learn not only how to develop an attitude that will have a tremendous impact on career, family,and daily living, but also how to maintain that attitude for the rest of your life.
The Five Temptations of a CEO, Anniversary Edition: A Leadership Fable
by Patrick Lencioni
A commemorative edition of the landmark book from Patrick Lencioni When it was published ten years ago, The Five Temptations of a CEO was like no other business book that came before. Highly sought-after management consultant Patrick Lencioni deftly told the tale of a young CEO who, facing his first annual board review, knows he is failing, but doesn't know why. Refreshingly original and utterly compelling, this razor-sharp novelette plus self-assessment (written to be read in one sitting) serves as a timeless and potent reminder that success as a leader can come down to practicing a few simple behaviors?behaviors that are painfully difficult for each of us to master. Any executive can learn how to recognize the mistakes that leaders can make and how to avoid them. The lessons of The Five Temptations of a CEO, are as relevant today as ever, and this special anniversary edition celebrates ten years of inspiration and enlightenment with a brand new introduction and reflections from Lencioni on the new challenges in business and leadership that have occurred in the past ten years.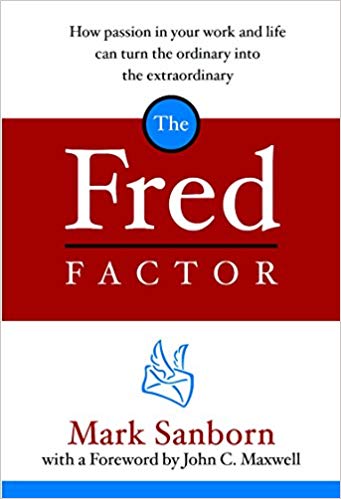 The Fred Factor: How Passion in Your Work and Life Can Turn the Ordinary into the Extraordinary
by Mark Sanborn
Who has made the biggest difference in your life? Whose words and actions have uplifted and motivated you to excel? Chances are it was someone like Fred the Postman — so outstanding in his service that Mark Sanborn realized this mail carrier could be an example for any person wanting to be extraordinary.
The "Fred Factor" is summarized by four principles that will release fresh energy, enthusiasm, and creativity in your career and life: 
• Make a Difference
• Build Relationships
• Create Value
• Reinvent Yourself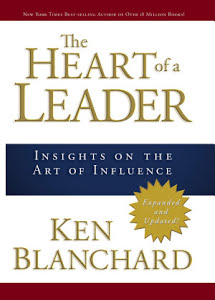 The Heart of a Leader
by Ken Blanchard
The Heart of a Leader offers Blanchard's insight and wisdom on choosing values, aiming for excellence, maintaining integrity, finding the courage to change, helping others reach their potential, and more. With The Heart of a Leader you'll master key attitudes and actions to impact the lives of those around you.<br><br>Influence is an art – and it begins with the heart of a leader. It's time to let your heart soar!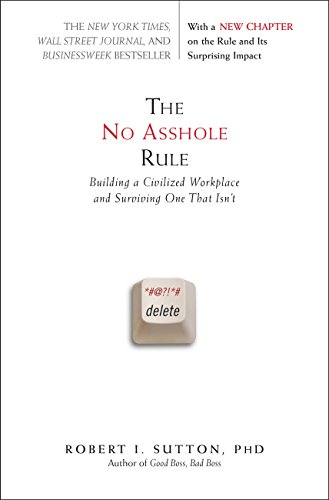 The No Asshole Rule: Building a Civilized Workplace and Surviving One That Isn't
by Robert I. Sutton
 In this groundbreaking book, Stanford University professor Robert I. Sutton builds on his acclaimed Harvard Business Review article to show you the best ways to deal with assholes…and why they can be so destructive to your company. Practical, compassionate, and in places downright funny, this guide offers:
Strategies on how to pinpoint and eliminate negative influences for good
Illuminating case histories from major organizations
A self-diagnostic test and a program to identify and keep your own "inner jerk" from coming out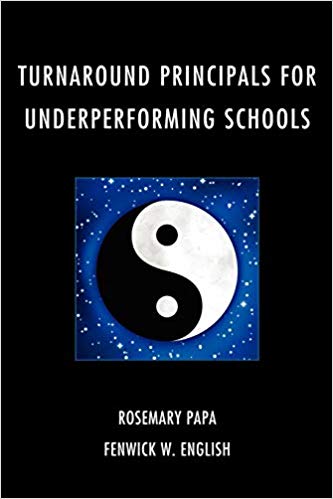 Turnaround Principals for Underperforming Schools

 
by Rosemary Papa, Fenwick W. English
There's no mystery in turning around low-performing or failing schools, but there are also no recipes. In Turnaround Principals for Underperforming Schools Rosemary Papa and Fenwick English identify the essential ingredients for success. The causes of failure are complex and interactive. Schools are not inert structures but living organisms. Putting schools back together is a collaborative venture. It takes a team to turn around a school, but it all begins with the leadership. The key to success rests in a school leader who has a fundamental understanding of the dynamics of schooling, human motivation, and possesses the resiliency and energy to engage in altering the internal landscape of an unsuccessful school. Two veteran educators have put together a work based on their research and experience for the past half-century. They pull no punches. The challenge is not only to turn low-performing or failing schools around, but to enable them to become more socially just places for all students.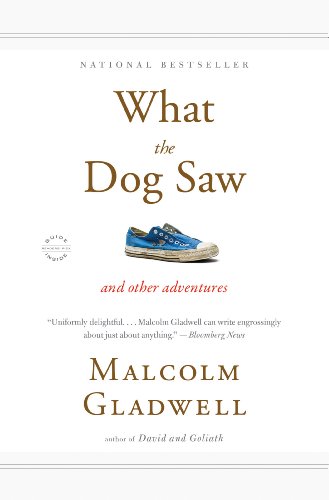 What the Dog Saw: And Other Adventures
by Malcolm Gladwell
In the past decade, Malcolm Gladwell has written three books that have radically changed how we understand our world and ourselves:

 

The Tipping Point

;

 

Blink

; and

 

Outliers.

 

Now, in

 

What the Dog Saw

, he brings together, for the first time, the best of his writing from

 

The

 

New Yorker

 

over the same period.
Here is the bittersweet tale of the inventor of the birth control pill, and the dazzling inventions of the pasta sauce pioneer Howard Moscowitz. Gladwell sits with Ron Popeil, the king of the American kitchen, as he sells rotisserie ovens, and divines the secrets of Cesar Millan, the "dog whisperer" who can calm savage animals with the touch of his hand. He explores intelligence tests and ethnic profiling and "hindsight bias" and why it was that everyone in Silicon Valley once tripped over themselves to hire the same college graduate.